With the implementation of GST, the whole indirect tax structure has been subsumed under one authority, who collects, computes and records tax filings made by taxpayers. The Goods and Services Tax Network (GSTN) is the backbone for this system. GSTN provides the necessary IT infrastructure for filing returns, managing payments of indirect tax liabilities and achieving other compliances. It is maintained by the NIC (National Informatics Center).
Vision of GSTN
The vision of the GSTN is to become a trusted National Information Utility (NIU ) which provides a robust IT backbone to ensure the efficient functioning of the GST regime. This vision was established so that the taxpayer can take forward the idea of "One Nation One Market" with less compliance cost.
Mission of GSTN
The mission of the GSTN include:
To provide reliable and shared IT infrastructure to Central and State Governments, taxpayers and other partners for GST implementation and execution.
To provide taxpayers with different GST services such as registration, return filing, and payment.
To provide a user-friendly GST eco-system by partnering with different agencies.
To encourage and collaborate with GST Suvidha Providers (GSPs) so that simple GST applications can be made available to assist taxpayers.
To assist tax authorities to simplify tax compliance and ensure transparency.
To be knowledge leaders by carrying out research and studies on industry's best practices and supporting tax authorities and other stakeholders.
To develop Taxpayer Profiling Utility (TPU) for Central and State Tax Administration.
To provide services on request to the Central and State Governments and other stakeholders.
Shareholding and Organisation Structure of GSTN
The major portion of the shareholdings in the GSTN, i.e., 51%, is cumulatively owned by private companies. The remaining shares are owned by the Government of India. The total capital of the GSTN is approximately 10 Crore INR, but there is an approved non-recurring grant of 315 Crore INR.
Shareholding pattern of GSTN:
GSTN Projects
There are several completed and on-going projects under the wings of GSTN. The list is visible on the GSTN portal as shown below: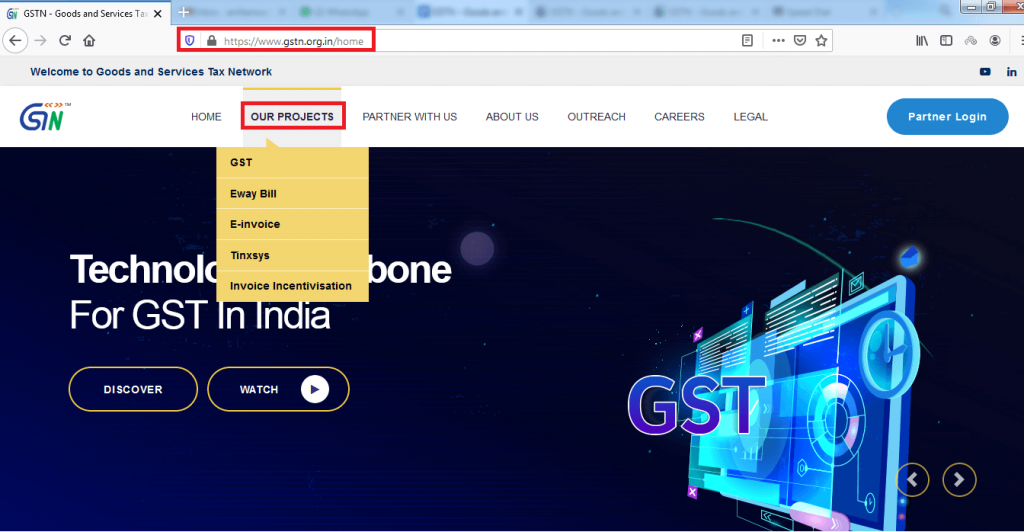 (Image Source: GSTN)
(i) GST
GSTN developed an IT platform to handle not only the diverse tax systems of all Indian States and Union Territories but also to provide a single interface for more than a crore taxpayers' for their GST compliance functions. Some of the responsibilities of GSTN are:
GST System application design, development and operation
State-of-an-art data security system
Disaster Recovery mechanism
Help-desk setup and operations
Training and capacity building
Creation of GST eco-system
IT structure for GST
(Image Source: GSTN)
(ii) e-Way Bill
GSTN developed the e-way bill IT structure for taxpayers who move consignments valuing INR 50,000 or more, to generate e-Way bills digitally without any hassle. The intention of introducing the e-Way bill was to have an effective tool to track the movement of goods and check tax evasion. Furthermore, a unified approach to e-way bill generation through the e-Way Bill portal reduces ambiguity.
IT structure for e-Way bill:
(Image Source: GSTN)
(iii) e-Invoice
In the 37th GST Council meeting held on 20th September 2019, it was recommended to introduce e-invoicing. As of today, e-invoicing will be implemented from 1st October 2020 for taxpayers whose aggregate turnover (based on PAN) in the preceding financial year is more than INR 500 Crores. With the mechanism in place, business-to-business communication can improve because of reduced transcription errors and costs involved. Further, the exchange of documents between suppliers and buyers will get simplified.
Apart from laying down e-invoice schema, GSTN has established Standard e-Invoice Messaging Protocol (SIMPOL) that ensures:
A robust system to exchange e-invoices between sellers and buyers seamlessly.
Machined readability of e-invoice generated and exchanged.
(iv) TINXSYS
TINXSYS (Tax Information Exchange System) facilitates data exchange between Commercial Tax Departments (CTDs) of all States for the better and efficient administration of inter-state trade.
Since this system functions as a data repository too, it can help the CTD officials to verify the details of dealers located in various states along with the statutory forms submitted by them to support their claim for concessions.
Apart from this, TINXSYS also provides Management Information System (MIS) and Business Intelligence reports to CTD(s) and Empowered Committee of State Finance Ministers (EC). These reports assist in monitoring the inter-state trade/movement.
Functioning of TINXSYS Application:
(Image Source: GSTN)
(v) Invoice Incentivisation
Under the 'Mera Bill Mera Adhikaar' scheme citizens are encouraged to ask for original invoices from the sellers charging GST. The main motive here is to, encourage tax compliant behaviour even in B2C transactions,
GSTN in collaboration with M/s e-connect Solutions Pvt. Ltd is developing a user-friendly mobile application and portal that will enable citizens to register themselves and upload invoices. This application/portal will fetch all the important data from the uploaded invoices, like the GST Identification Number (GSTIN), invoice number, amount paid and tax amount. Subsequently, at the end of every month, a lucky draw will be organized wherein a few lucky invoices will be rewarded. This is an attempt to give honest taxpayers an incentive for their compliant behaviour.
Key Takeaways
(i) IT Infrastructure
The principle motivation behind the GSTN is to provide Information Technology framework to the GST system. The essential framework required for such an immense arrangement of vendors, tax specialists, taxpayers requires a safe and secure system. Thus, a devoted structure like the GSTN was set up.
(ii) Data Sharing
Since such a gigantic and complex framework covering the whole nation was being set up, the parties that would need to access this data was large –  Central Governments, State Governments, and banks including RBI.
This size of data partaking – safely and securely, can only be achieved with a dedicated tax network. Hence, the GSTN was established to provide the nation with a protected data sharing system.
(iii) GST Suvidha Services
The government has urged more advanced applications to be created along with the GSTN. With the Digital India movement, numerous new computerised applications and services have sprung up to support businesses. The GSTN is the foundation of these services when they relate to GST and its allies.
(iv) Research and Development
The GSTN permits various partners to do innovative work on the different parts of tax assessment and data discovery. This takes into account the making of best practices and industry standards. Since GST is in the nascent stage, the more research and development that is done, the better it is for the economy. GSTN functions like the forefather here.
(v) Data Protection
Digital frauds are common in this digital world. Hackers mangle codes to acquire various resources including sensitive data.  Therefore, to withstand any kind of cyberattacks, a robust Information Technology foundation is required.  Keeping this in mind, the GSTN has kept data protection as one of its fundamental principles.