AADHAR Card Password
AADHAAR Card also known as aam aadmi ka aadhaar is 12 digit UID number that carries all the fundamental details of a person, so an Aadhar card password is important, you can get details such as:
Name
Date of Birth
Gender
Address
Barcode
Fingerprint
Photograph
Project eAADHAAR is supervised and controlled by Unique Identification Authorities of India (UIDAI).
The main purpose behind the introduction of AADHAAR was to issue unique IDs to every resident of India. This helps the government in many ways as they can identify every citizen of India and also helps in combating illegal immigration. It shall be noted that one person can hold only one AADHAAR Card.
Some of the major functions of AADHAAR Card are:
Universal ID proof
Photo Identity proof
Date of Birth (DOB) Proof
What is e-AADHAR Card Password?
Once you have enrolled for E ADHAAR cards you can download them through enrolment ID or virtual ID given by the UIDAI. Now the question arises what is an e-AADHAAR? An e-AADHAAR is a virtual copy of your AADHAAR card that is protected by a password. This password on the e-AADHAAR card is known as e AADHAR Card password. An e AADHAAR password contains 8 letters that protect your virtual AADHAAR for security purposes. This 8 letter eaadhar download password is the combination of two things your name and Year of birth as per AADHAAR Card.
The first 4 letters of the password for e aadhaar contain your name as per AADHAAR card
The last 4 letter of the aadhar card pdf password consists of your year of birth as per AADHAAR Card
Let us understand with an example:
If your name is Arjun and your year of birth is 1991 then the e-AADHAAR password for your virtual AADHAAR will be ARJU1991.
NOTE:
You can download e-AADHAAR card n number of times but for downloading it you need OTP that is sent to your registered password.
To take a print of your virtual AADHAAR Card you need to enter the e-AADHAAR PDF password to open and print the PDF file.
Why there is a Password Required one-AADHAAR?
Aadhar download password secure your virtual identity from being misused by securing the PDF file.
Reasons Behind Downloading e-AADHAAR Card
Some of the possible reasons for downloading e-AADHAAR card can be:
You have lost your original AADHAAR Card.
You want to keep a copy of AADHAAR Card in a virtual form to use it whenever necessary.
The Process to Download e-AADHAAR Card
In case if you want to download the e aadhaar password pdf card uses the following process:
Choose My AADHAAR and click on the Download e-AADHAAR
Enter Enrolment ID (14 digit number) or AADHAAR number (12 digit number) or Virtual ID (16 digit number). Enter the CAPTCHA code and click on enter OTP.
After clicking on the Enter OTP button you will be redirected to a new page wherein you need to enter a one-time e aadhar password on your registered phone number.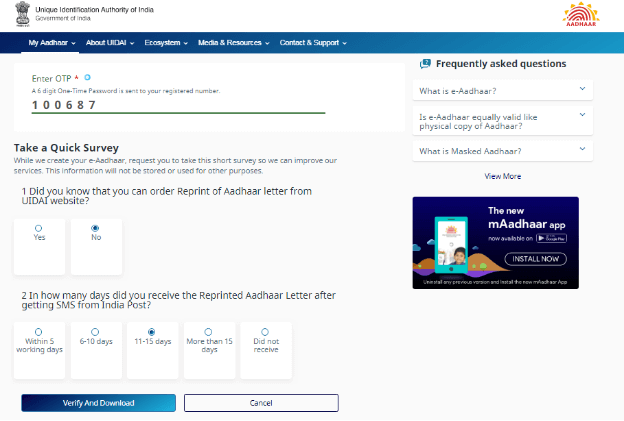 Click on the verify and download button to download your e-AADHAAR Card
The Process to Open e-AADHAAR Card PDF File
You can download AADHAAR Card PDF File using the below two methods:
Enter the postal address mentioned at the time of applying for your AADHAAR Card.
By entering the first four-letter of your Name and year of birth as download aadhar password (download aadhar card pdf).